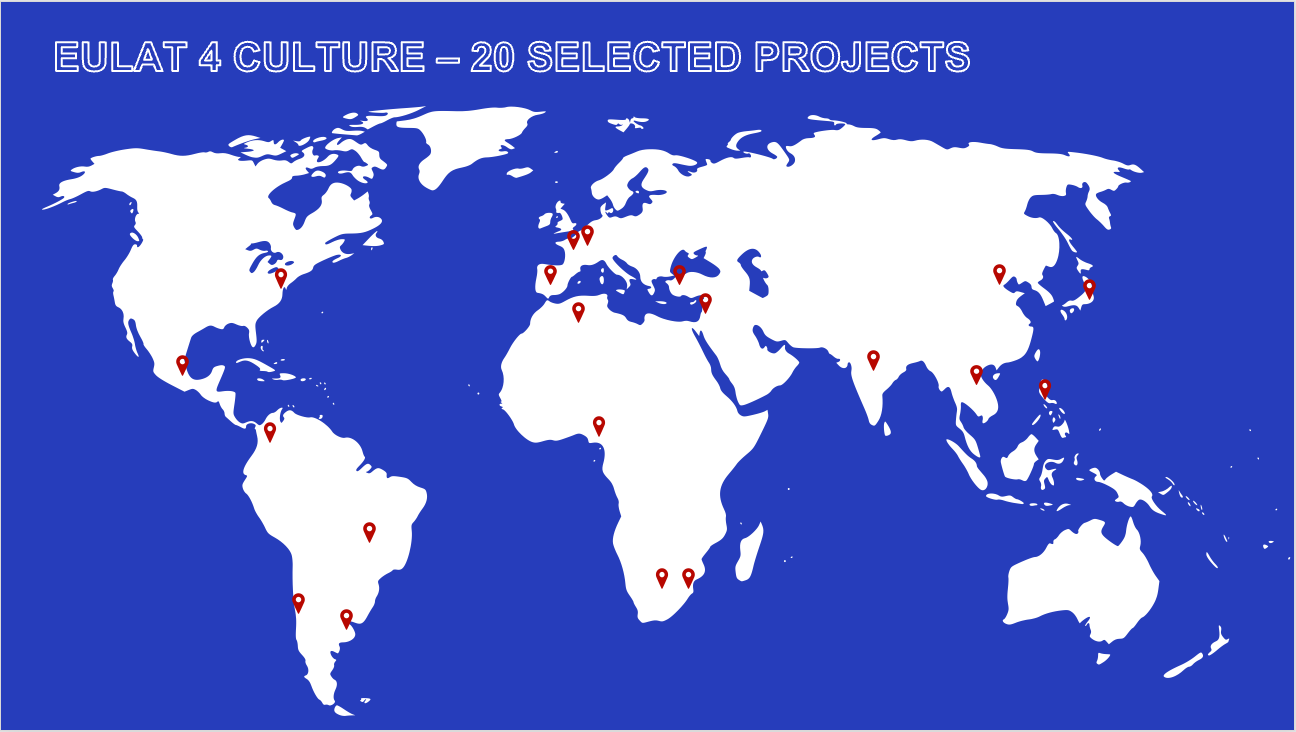 EULAT 4 Culture: Support to cultural relations between Europe and Latin America
On the occasion of AECID's presidency of EUNIC during 2021-2022, a special call for proposals supporting Europe - Latin America cultural relations was launched in February and closed on 8 April 2022. In this framework, 20 proposals have been selected to receive 9,000 euros each for a total of 180,000 euros.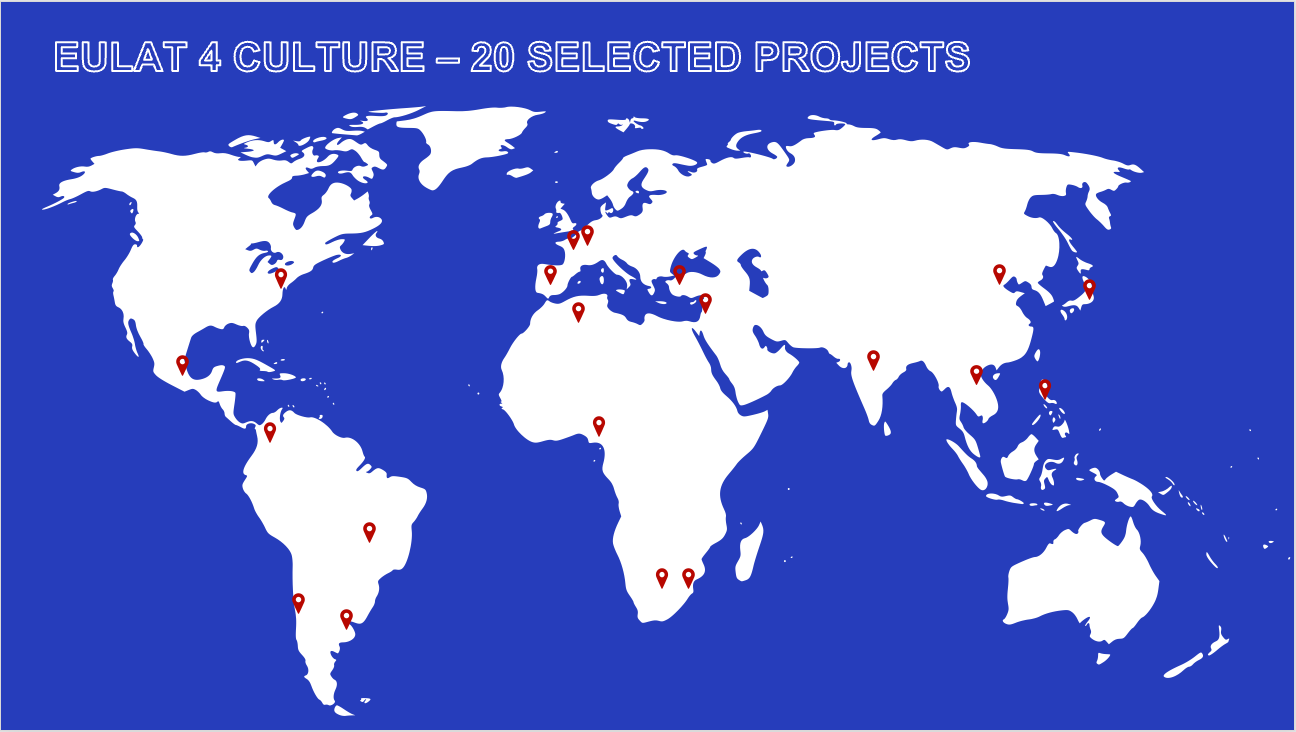 The call was initiated by AECID with dedicated funding from the Spanish government. It is implemented in cooperation with EUNIC and the selected 20 EUNIC clusters worldwide.
The principal aim of the call was to put into action the Joint statement EUNIC/RIDCULT adopted at the June 2021 EUNIC General Assembly in Toledo, with the purpose of fostering the contribution of culture to promoting dialogue, knowledge and exchange between the peoples of Europe and Latin America in diverse global settings.
The evaluation was based on four selection criteria: contribution to the purposes of the special call and the EUNIC/RIDCULT joint statement, relevance to the local context, alignment with cultural relations principles and partnership. Furthermore, proposals needed to include participation of at least three EUNIC members and two RIDCULT member country embassies.
The EUNIC office team conducted the eligibility check and met with colleagues from AECID and Instituto Cervantes for the joint selection. Out of the 24 proposals submitted, 2 were not eligible and 20 proposals were selected to receive 9,000 euros each, for a total amount of 180,000 euros. These projects are involving 23 EUNIC members, 11 EU Delegations and over 65 local partners.
Selected proposals
Latin America
Bogotá - Europe and Latin America through the lens of cultural diversity
Brasilia - IMPACTe-lab
Buenos Aires - Museos de Mundos Posibles
Mexico City - XII Iberoamerican biennial of architecture and urbanism
Santiago de Chile - Encuentro de Dramaturgia Latinoamericana y Europea Contemporánea en Chile
North America
Washington, D.C. - On the road
MENA Region
Algiers - Promoting values through reading illustrations
Tel Aviv - EULAT @ LGBT Tel Aviv International Film Festival
Subsaharan Africa
Abuja - The Yorubá Culture: A Cross-Continental Approach
Maputo - Semana LGBTQIA+
Pretoria - Public Conference and Workshop on Rock Art
Europe
Brussels - Coooperative culture and creativity to address global challenges
Madrid - FLIPAS Latinoamericana – Laboratory for urban cultures
Paris - Inspired by diversity
Western Asia
Ankara - Cooking stories
South Asia
New Delhi - The Way Forward
South-East Asia
Hanoi - #THETIMEISNOW-CELEBRATING NATURE
Manila - Creativity and culture Blend: Design as a bridge among Europe, America and Asia
East Asia
Beijing - The Use of Public Space
Tokyo - MicroDocs: EU, Latin America and Japan young musicians and creators dialogue on common values
The projects implementation period is from May to end of October 2022.